I have a special treat for you today.
Michelle Paige has graciously agreed to guest post here today.
Her blog has so many creative ideas for any occasion.
Some of my favorites from her site are Knights in Training Birthday, Lollipop Valentines, Easter Egg Heads, and an "About to Pop" Baby Shower.
Take a moment and explore her site. I promise you won't be disappointed.
Hi!  I'm Michelle Paige and today is my very first guest post, ever!!
This is so exciting, I hope I don't mess up!  Thanks for having me, Jennifer!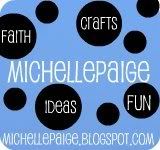 Thanks again for having me, Jennifer!